7 "Ask and it will be given to you; seek and you will find; knock and the door will be opened to you. 8 For everyone who asks receives; the one who seeks finds; and to the one who knocks, the door will be opened.
9 "Which of you, if your son asks for bread, will give him a stone? 10 Or if he asks for a fish, will give him a snake? 11 If you, then, though you are evil, know how to give good gifts to your children, how much more will your Father in heaven give good gifts to those who ask him!
As I mentioned, I am keeping a list of
One Thousand Gifts
! An idea from the best selling book by Ann Voskamp, I am selecting 3 things each day for which I am thankful and sharing them with you on my blog. In one year's time, I will have 1000 gifts to look back on! The running list will be in this post that you can visit at any time :)
If you'd like to join me, leave me a comment with a specific gift you'd like to share or even a link to a copy of your own list! We can encourage one another in our gratitude!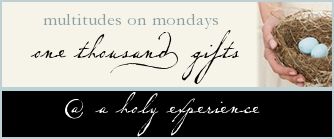 12. The foosball table at our hotel. My son has had so much quality time with Daddy at this table and he has gotten quite good for being only 4! Tonight they got to play before Chris headed in to work.
11. America. Land of the Free...Home of the Brave
10. Landlords that are working around the clock for our home inspection. They are flipping this house in 3 days time!
9. Divine Appointment with sw
eet Lindsey and her tidbit of wisdom :)
8. Fast friends. So thankful for God bringing great friendships into my life so quickly here in Italy.
7. Italian Espresso
6. Ability to buy Italian foods and American foods at whim! I've met many ex-pats here in Italy that cannot shop on the base and they miss the comforts of home greatly! I am blessed!
5. Google translate
4. Jars of tomato sauce on sale for 65 euro cents per jar
3. Motherhood. Any more on that subject and I'll start crying. I love being Emily and Ivan's mommy so much. :)
2. My husband who loves me, supports me and makes me a better person every day.
1. A God on the throne who loves me unconditionally and teaches me to love unconditionally.